Multiformity Of Man
---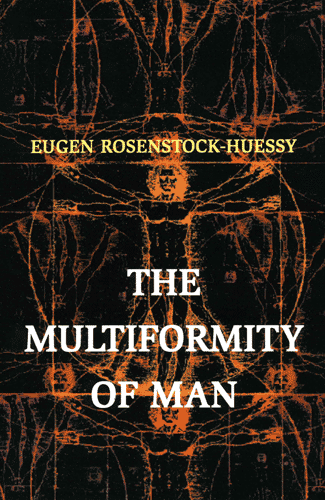 Buy from Wipf and Stock
isbn: 0912148-06-3

Search Alibris
This is a little masterpiece, perhaps the most tightly drawn of all of Rosenstock-Huessy's essays at once profound, as current as the day it was written, and embodying the core of his thinking in sociology.
He begins ostensibly with a management problem, pointing out that the advent of modern technology and its attendant economic system have made it necessary for a new type of man to emerge.
In the introduction, Rosenstock-Huessy writes:
The basis for the following chapters was formed by the lectures which, in 1935, I had the privilege to deliver at the Lowell Institute in Boston. Lectures and books try to formulate the new riddle laid before man by his own achievements. Man has succeeded in mechanizing his world. He has organized nature. For its very effectiveness, his deed raises the issue of man's own position in nature with new acuteness.
Man, he asserts, is not an individual only, but must be assimilated in all his basic roles as a team member in the working group, in community, and as a friend or lover. Finally, he must be free to develop his soul, his individual unity. With all of these facets, man is complete, but multiform.
Paperback, 78 pages.