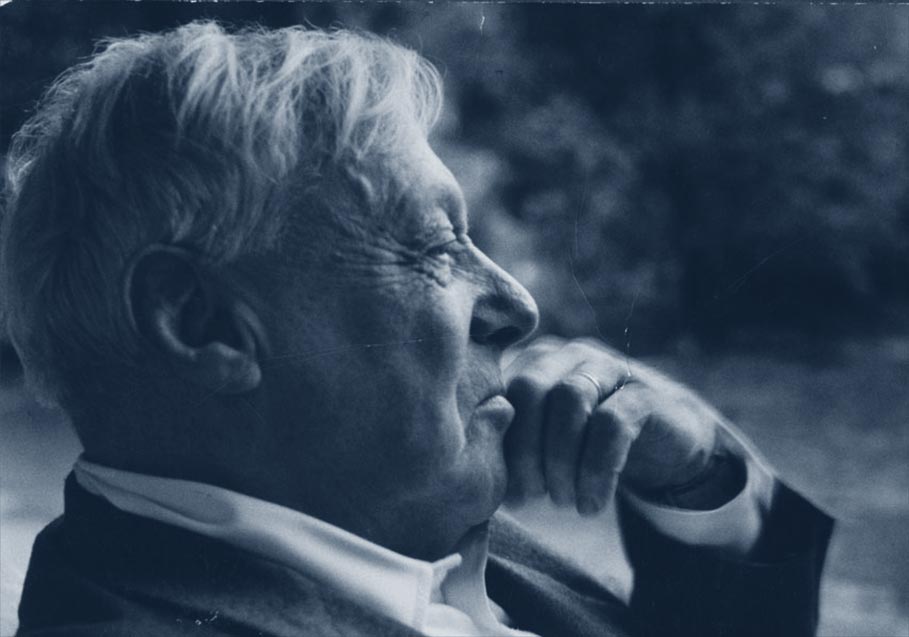 The Eugen Rosenstock-Huessy Fund began in the early 1950s as a line item in the budget of the Tucker Foundation (Dartmouth College's chaplaincy program) when the students recording Rosenstock-Huessy's class lectures needed to raise money to buy tape stock. They and other former students then took on the task of keeping Rosenstock-Huessy's works in print in several imprints: Beachhead, Four Wells, and Argo Books. The current Eugen Rosenstock- Huessy Fund, organized in 1976 as a Vermont-based nonprofit corporation, grew out of these early initiatives.
For four decades, the Fund operated a publishing wing, Argo Books, which republished many of Rosenstock-Huessy's English-language works and issued hitherto unpublished manuscripts as books. The Fund's publishing work was paralleled in Germany by the Eugen Rosenstock-Huessy Gesellschaft, which undertook similar efforts with the German-language works; in Holland, the group Respondeo published a number of translations into Dutch. (The Fund recently decided to close its operations as Argo Books and pass on responsibility for Rosenstock-Huessy's works to another publisher. His English-language works are available on Amazon, sold by Wipf and Stock of Eugene, OR, who also publish Jacques Ellul and William Stringfellow.)
The Fund has underwritten translations of Rosenstock-Huessy's works and their publication in France, Poland, Russia, and China. The Fund has also transcribed, published, and remastered the hundreds of hours of lectures which Rosenstock-Huessy's students had recorded, beginning in 1949 and ending only with his retirement from Dartmouth in 1957. For many years the Fund sold those lectures as well as others made at various University of California campuses in the 1960s.
Last year, however, Rosenstock-Huessy's heirs generously agreed to make all the lecture audio available for free download on the Fund's website. To see the selection of available lectures, click on either of the "lecture" buttons on this page. You may also play the lectures live; transcriptions of each lecture appear in the box below the audio player and a scroll button allows you to move through the transcription to follow the audio.
The Fund serves the interest in Eugen Rosenstock-Huessy's life and work; its programs are entirely dependent on private contributions. Please consider making a tax-deductible donation; the Eugen Rosenstock-Huessy Literary Heirs ask that you consider making a donation to the Fund in lieu of payment for downloading the lecture audio.
Authors and Publishers: The Eugen Rosenstock-Huessy Fund would be glad to consider posting information about new titles by, about, or related to Eugen Rosenstock-Huessy at www.erhfund.org. The Fund requests the full bibliographic information by email to treasurer@erhfund.org, as well as the URL of a cover picture (if available) and the URL of more detailed information about the publication, for use as a link for interested parties. The Fund requests the courtesy of reciprocal links to www.erhfund.org.